MedEd Connections Resource Guide: Deaf and Hard of Hearing (D/HH)
Newborn Does Not Pass - Next Steps
---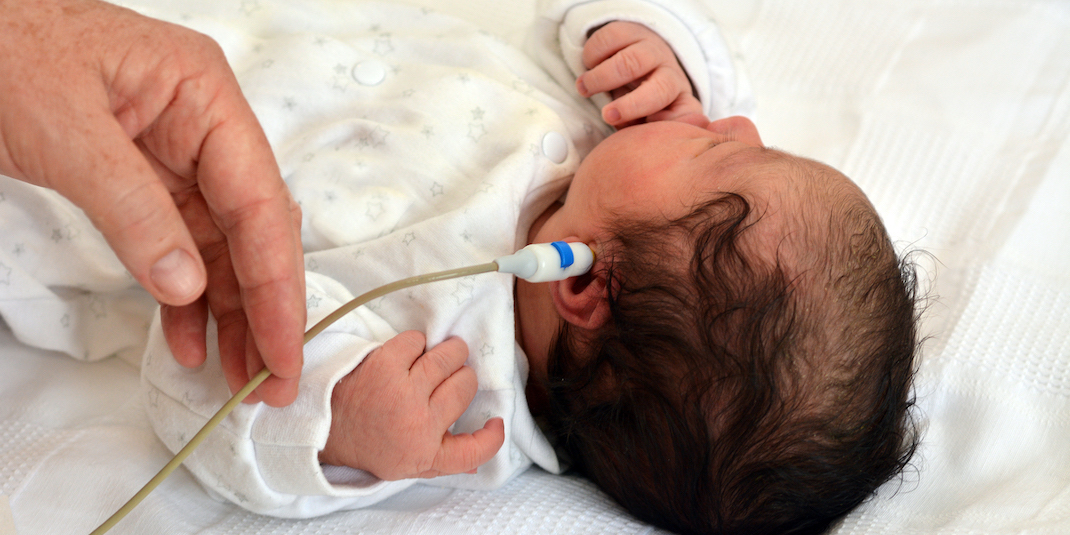 If your child does not pass a newborn hearing screening at the hospital, the hospital will provide you with some resources, and next steps. One next step will be to meet with an audiologist. An audiologist is a professional who diagnoses and treats hearing and balance problems in people of all ages. The hospital will provide you with a list of audiologists so you can schedule a hearing evaluation by the time your child is four (4) weeks old. You could also find a pediatric audiologist (one who specializes in young children) through this directory organized by Ohio counties. The "hearing evaluation", also called a "diagnostic hearing evaluation" is simply a more detailed test that can help determine if your baby has a hearing loss.
If your baby has a hearing loss, the audiologist will make a diagnosis identifying the cause of hearing loss. The audiologist will also provide you with information about communication, language, treatment options and next steps. All of these are discussed throughout this guide.
Depending on the cause and your preferred communication choices, treatment options may include tubes, surgery, or hearing assistive technology (HAT). We know these are new terms, so we will define them as we go. In addition, you may choose not to have any medical intervention and adopt a visual communication modality such as American Sign Language (ASL).
Next steps after the audiologist may include a referral for early intervention (EI) services. EI provides coordinated services to parents of eligible children under the age of three with developmental delays or disabilities. EI is grounded in the philosophy that young children learn best from familiar people in familiar settings. So EI services are usually provided in the home, supporting your baby's speech and language development.
It is important to schedule the hearing evaluation by four (4) weeks of age with an audiologist so that treatment can begin as soon as possible, and hopefully, by three months of age. The typical time period for speech, language, and communication development is between birth and three years of age. The earlier a child's hearing loss is identified or found, the earlier a child can begin developing communication skills. Missing a hearing loss may affect a child's language development, and also his or her educational achievement, literacy levels, and social-emotional development. Following the recommendations from your hospital and following up with an audiologist is important for your child's development.
---
Make sure to check your insurance plan requirements. Some plans require a referral from your family physician for an appointment with an audiologist.
---
Want more information about hearing evaluations and possible causes of hearing loss?
Visit KidsHealth.org to learn more.
---
You may also want more information about the Ohio Department of Health's (ODH) Infant Hearing program. ODH's mission is to protect and improve the health of all Ohioans.
---