MedEd Connections Resource Guide: Deaf and Hard of Hearing (D/HH)
What Will Happen When My Child Is Too Old for Early Intervention Services?
---
Many children in EI are eligible at age three for special education services provided by the Ohio Department of Education. Other families choose to enroll their child in child care or care for their child in their own home.
With your consent and prior to your child's third birthday, your service coordinator will arrange a transition planning meeting with your family, your EI team, and the other people who will be serving your child after the age of three. Your IFSP will be updated to add the steps and services needed to make a smooth transition.
---
For more information about Ohio's Early Intervention services, including a video, visit https://ohioearlyintervention.org
---
The Joint Committee on Infant Hearing (JCIH) has developed a set of principles and guidelines for early intervention of children who are D/HH here: http://www.jcih.org/posstatemts.htm
---
Ohio's Early Intervention website provides a map in which hearing, and vision services can be located by county:
https://ohioearlyintervention.org/local-state-national-resources/ohio-hearing-vision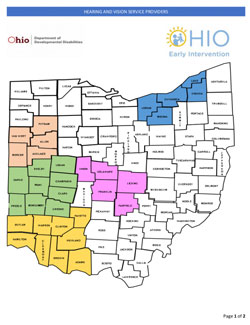 ---