MedEd Connections Resource Guides: Deaf and Hard of Hearing
Communication
---
Previous Page Page 18 of 40 Next Page
---
Families with children who are D/HH have to consider what communication mode their child will use to access language. Communication mode and language are not the same. Communication mode refers to the means by which language is accessed and conveyed.
There is no right or wrong choice of communication mode. Communication is uniquely and intensely personal. Families may change their mode of communication as they grow. Families may also choose to combine communication modes.
Communication modes include:
Signed American Sign Language (ASL),
Signing Exact English,
Cued speech,
Lip reading,
Orally spoken English,
Auditory listening (typically through HAT),
Reading and writing, and
Total communication.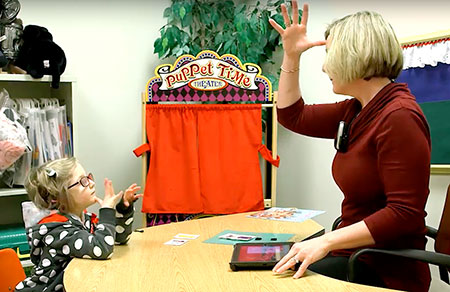 A child who is D/HH may experience language, communication, literacy, or social delays. Being D/HH does not cause these delays. Instead, language deprivation, caused by inability to access language (through communication modes), causes delays. These three elements (language, communication, and literacy) directly affect each other to make a working whole. Language is needed in order to communicate and communication is needed to access language, and both are needed to become literate. Language, communication, and literacy are vital for children to fully engage and access all aspects of their lives. It is important that children develop a language foundation as early as possible.
It is crucial for children who are D/HH to have opportunities to practice language and communication skills at home, with friends, and at school.
The Outreach Center and Deaf Service/Community Centers can direct families toward sources to learn ASL and chosen communication modes. Families may also be able to reach out to SLPs, TODs, and educational audiologists for guidance.
The Outreach Center provides detailed information about communication modes here.
Hands and Voices explains in detail communication choices and FAQs in the following "Communication Choices."
---
Learning Sign Language
There will be situations in which your child will have trouble hearing or won't be wearing his or her hearing technology (if chosen), such as while sleeping or showering. Consider learning a visual signed language in order to communicate with your child for those situations. It is crucial for children who are D/HH to have opportunities to practice language and communication skills at home, with friends, and at school.
Want to start learning sign language with your family? Check out the following resources to get started.
Resources for Learning Sign Language
Accessible through the Outreach Center's website is free online Sign School, the opportunity to connect virtually with a Deaf ASL Ambassador, an ASL ap, ASL video dictionary, and more.
Lifeprint
Lifeprint, created by William G. Vicar, who is hard of hearing and is a professor of ASL and Deaf studies. This resource offers vocabulary, phrases, lessons, and modules. It's free.
A.G.Bell
Want to start listening and speaking with your child? The AG Bell Organization assists families with listening and spoken English.
Setting Language in Motion: Family Supports and Early Intervention for Babies Who are Deaf and Hard of Hearing
Setting Language in Motion, is a free online learning module developed by Children's Hospital's deaf/hard of hearing program and the Clerc Center at Gallaudet University. Scholarly theory and evidence-based practices are explained, helping one understand the what, how, and why of language practices for individuals who are D/HH.
---
Previous Page Page 18 of 40 Next Page