MedEd Connections Resource Guide: Blind and Visually Impaired (B/VI)
After the Vision Screening
---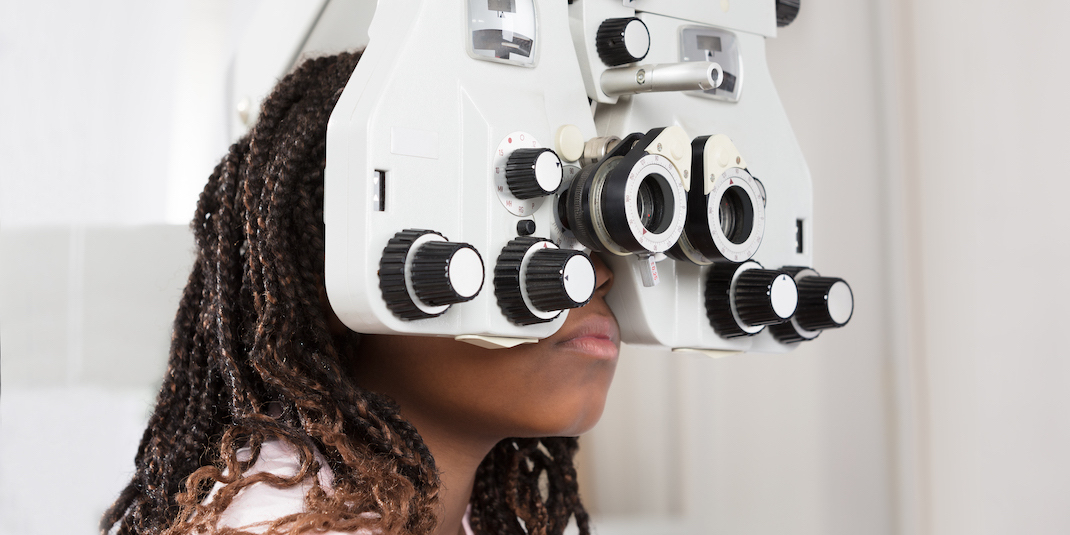 My Child Didn't Pass a Vision Screening—Now What?
A vision screening, also called an eye test, is a brief exam that looks for potential vision problems and eye disorders. Vision screenings are often done by your primary doctor as part of your child's regular checkup. Sometimes screenings are given to children by school nurses.
Vision screening is not used to diagnose vision problems. If a problem is found on a vision screening, your or your child's doctor, or the school nurse will refer you to an eye care specialist for diagnosis and treatment. This specialist will do a more thorough eye test. Many vision problems can be successfully treated with corrective lenses, minor surgery, or other therapies.
The usual recommendation is for your child to see an eye doctor, called an Ophthalmologist, so that any vision conditions can be examined and identified. An ophthalmologist is a medical doctor (MD) or a Doctor of Osteopathic Medicine (DO) who specializes in eye and vision care. Ophthalmologists are trained to perform eye exams, diagnose and treat disease, prescribe medications, and perform eye surgery. They also write prescriptions for eyeglasses and contact lenses.
Identifying vision conditions early can help your family, your child's school, and health care providers plan how to best support your child as he or she grows. The ophthalmologist may then refer you to an optometrist for glasses or magnifying devices. You may also consider contacting Ohio's Early Intervention (we discuss early intervention later in this guide).
Where Can I Find an Ophthalmologist, or Eye Doctor?
The person who performed your child's vision screening should be able to direct you to an eye doctor in your area, or you can use the Ohio Ophthalmology City Directory.
What Can I Expect at my Child's Eye Doctor Appointment?
As you prepare for your doctor visit, please check out the section of our guide on preparing for your doctor's visit! Once you are at the appointment, there will probably be waiting involved, so you and your child may want to bring something to pass the time. An eye doctor visit could be anywhere from one to two hours long depending on the tests he/she would like to perform.
Usually, when you are waiting you may be asked to fill out forms about your child's medical and health history. These may include questions such as:
Has your child been in a hospital recently for any reason?
What medications does your child currently use, or is there any new medication?
Has your child been experiencing any pain or irritation in the eyes or head?
Has your child been struggling to see anything in particular?
When the exam begins, a variety of procedures and assessments may occur, for example:
The eye doctor may give your child eye drops in order to dilate the eyes for easier examination. These drops may sting of turn yellow or orange.
The doctor may shine various lights into your child's eyes.
Many exams will include using a machine which has a resting perch for your child's chin, and high-powered lenses to look deep inside the eyes.
Other machines may be used to determine your child's eye pressure or take pictures of structures deep inside the eyes.
Most exams include viewing vision charts, which may include letters, numbers, or pictures.
None of these procedures will be harmful to your child. These procedures are used to determine your child's current eye health, make a diagnosis, and recommend treatment options.
Treatments may include eye glasses, medication, or surgery. Ask for clarification if anything is confusing and consider asking for the pros and cons of each treatment. Your eye doctor may refer you to an Optometrist, who specializes in eye glasses, magnifying devices, and contact lenses.
---
It is good to ask your child's doctor questions to build your understanding.
You can view this web page to get more ideas as to what questions to ask.
---
Ultimately the choice of treatment is your decision. You may get a second opinion from another professional if you are uncertain.
---
Please note, the above description is a brief overview, not a detailed account of all that an eye doctor visit may entail.
For more information, visit:
Comprehensive Eye Exams: What to Expect - AllAboutVision.com
---
You can also view this video from the Ohio Optometric Association,
"Journey Through an Eye Exam."
---
Where Can I Find an Optometrist?
Your child's eye doctor, the ophthalmologist, can refer you to someone nearby. Or you can use this Optometrists Directory.
---
Are you interested in more information about eye conditions?
Visit Eye Health Information A-Z National Eye Institute for information about different eye conditions.
---
Are you interested in learning about the medical terms your eye doctor uses?
You can visit this Glossary of Eye Terminology to build your understanding of terms.
---