Ohio Guidelines for Working with Students who are Blind or Visually Impaired
Assistive Technology
---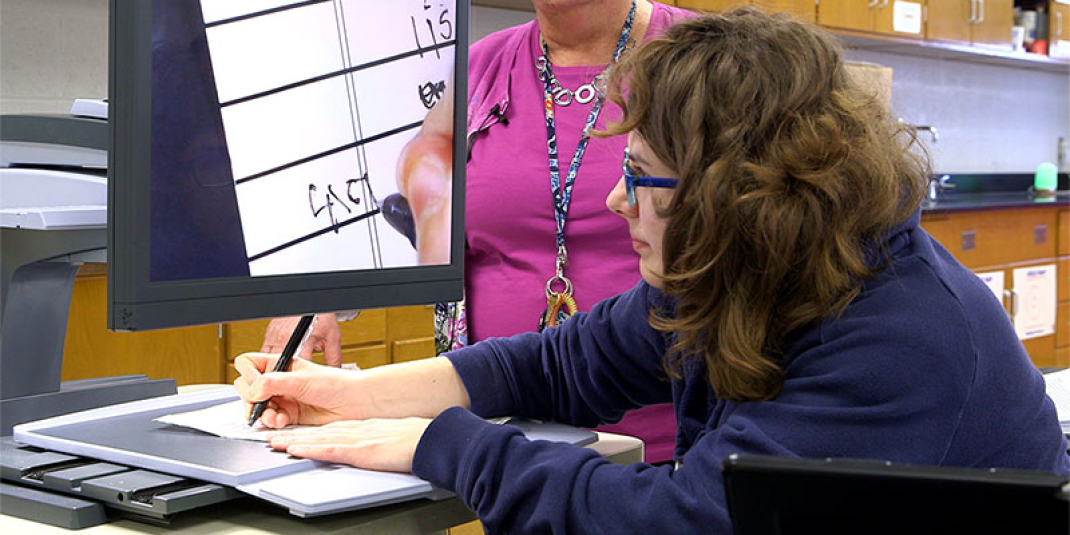 Learners who are blind or visually impaired use a variety of AT and may use a combination of devices to successfully complete educational tasks and participate in the general education curriculum and in social and leisure activities. AT devices and services needed by learners who are blind or visually impaired typically fall into the following domains:
Seating and positioning
Communication
Reading
Writing
Math
Activities of daily living
Mobility
Computer (or device) access
Learning and studying
Listening
Visual aids
Environmental control
Recreation and leisure
According to the Ohio Operating Standards for the Education of Children With Disabilities (2014), an AT device is: Any item, piece of equipment, or product system, whether acquired commercially off the shelf, modified or customized, that is used to increase, maintain, or improve the functional capabilities of a child with a disability. The term does not include a medical device that is surgically implanted, or the replacement of such device. (p.15)
AT Service is Defined as:
Any service that directly assists a child with a disability in the selection, acquisition, or use of an assistive technology device. The term includes:
The evaluation of the needs of a child with a disability, including a functional evaluation of the child in the child's customary environment,
Purchasing, leasing, or otherwise providing for the acquisition of assistive technology devices by children with disabilities,
Selecting, designing, fitting, customizing, adapting, applying, maintaining, repairing, or replacing assistive technology devices,
Coordinating and using other therapies, interventions, or services with assistive technology devices, such as those associated with existing education and rehabilitation plans and programs,
Training or technical assistance for a child with a disability or, if appropriate, that child's family, and/or
Training or technical assistance for professionals (including individuals providing education or rehabilitation services), employers, or other individuals who provide services to, employ, or are otherwise substantially involved in the major life functions of that child. (pg. 15-16)
AT Consideration
According to Ohio Administrative Code 3301-51-02: Free Appropriate Public Education (FAPE):
(1) Each school district must ensure that assistive technology devices or assistive technology services, or both, are made available to a child with a disability if required as a part of the child's IEP.
(2) On a case-by-case basis, the use of school-purchased assistive technology devices in a child's home or in other settings is required if the child's IEP team determines that the child needs access to those devices in order to receive FAPE. (Section F, Assistive Technology, http://codes.ohio.gov/oac/3301-51-02)
IDEA requires that IEP teams annually consider AT for every student who has an IEP. In the context of IEP development, review, or revision, consideration of AT is intended to be a collaborative process in which team members determine whether AT devices or services are needed for the student to be able to access the general education curriculum or achieve IEP goals. It necessitates that the IEP team includes or has access to someone who has knowledge about AT or who can guide the team in considering AT in the context of what he or she knows about the student.
Team members who are considering AT should examine available data about and observations of the student and ask whether the student may need AT to:
Receive instruction within the least restrictive environment,
Meaningfully participate in the general curriculum,
Participate in academic or functional activities,
Access textbooks and other educational/print materials,
Access auditory information,
Use for written communication and/or computer access,
Use for expressive communication, and
Participate in state and local assessments.
During the discussion, the team may determine that the student needs an AT assessment to succeed. The SETT (Student, Environments, Tasks, Tools) Framework by Dr. Joy Zabala can guide this process, beginning with identifying student strengths and weaknesses, as well as the student's environments and required tasks. The team, in turn, identifies tools that contain the needed features, initiates equipment trials, and gathers data during the trials to facilitate final tool and strategy selection. Finally, an implementation plan is developed, including a plan for follow-up and follow-along as this process is ongoing.
AT Evaluation
The team should conduct an AT feature-matching process to identify appropriate AT devices and services for the student. During this process, the student's needs, environments, and tasks are determined prior to identifying specific features of AT equipment or tools. The Student Inventory for Technology Support (SIFTS), developed by the Assistive Technology and Accessible Educational Materials (AT&AEM) Center at OCALI, is a tool to assist teams in matching a student's needs with AT features. Once the AT features have been identified, equipment trials should be conducted to determine the effectiveness of each AT device considered.
Additional tools that may be used to inform the SETT process include the following:
Learning Media Assessment (LMA)
Functional Vision Assessment (FVA); and/or Perkins Learning Resources Family Connect Resources
Low-Vision Evaluation Specific Assessments for Students With Low Vision
The data gathered from these assessments, including visual, reading, and writing functioning, should be considered in the AT evaluation process. Additional information regarding assessment may be found in the CISAM AIM Module 2: AIM & AT. Refer to the AT assessment section for additional information.
---